Hi,
Could someone tell what is the component circled in red on the following pic?: (MS9-29T chassis)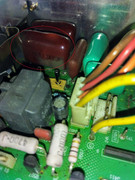 And where could i find a spare one if needed ?
(mine seems to have a white "popping" on the top, and i suspect it could become faulty one of these days...)
Thanks for your help!